Organized by the Retrotechnica team, the Freiburg Toy Exchange, the Freiburg Flea Market and Swiss RetroMecanika, the event welcomes visitors from Saturday to Sunday for its 2nd edition at the Forum.
A bag for weapons but not only! The diversity of this military scholarship is without appeal. Books, figurines, clothes, helmets, weapons, board games, medals or even models, the treasures are numerous.
"We bear witness"
Robin Udry, auctioneer in Valais, is exhibiting for this second edition. "The passion for this area is transmitted through history and knowledge", reveals the Valais. "We bear witness and pass on the stories of these objects," he confides.
According to him, more and more young people are interested in historical military objects. "Usually young people see these objects in video games. Here they meet them for real," he explains. "One thing leads to another, they wonder, they ask questions and they are interested in their story."
Indeed, for young Alexandre and Julie these objects passed from hand to hand ensure that the story continues from generation to generation.
A scholarship focused on history
For Dominique Durussel, organizer of the event and exhibitor, this grant is all about the historical aspect. "Walking here, people try to reconnect with their memories and nostalgia for the past," he explains.
"A Militaria scholarship shouldn't be seen from a militaristic point of view but from a historical point of view", specifies the organizer. "We have pieces ranging from the Middle Ages to the present day. It is a historical exhibition full of diversity."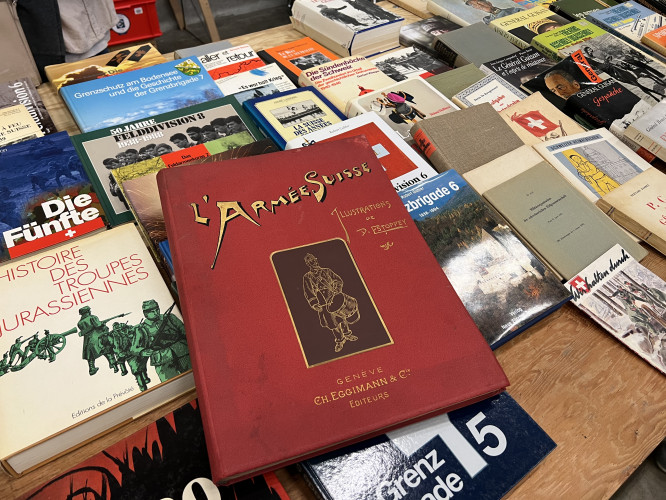 A curious and interested public
Diversity is also present among the visitors. Among connoisseurs, enthusiasts and the curious, the event welcomes a varied audience with the history of objects of common interest.
For some visitors, this type of event is a regular occurrence. "I got to the first edition a few years ago. I like antique weapons and historical objects. There are a lot of vintage things here that we don't necessarily find elsewhere and that we can buy at quite reasonable prices. Correct," says a visitor.
Others have been piqued by their curiosity. "I didn't know about the event at all, I've heard about it by word of mouth and I'm here out of curiosity," reveals another visitor. "The historical side is very interesting, there is a great diversity of objects and their origins."
The event will be held at Forum Friborg until Sunday. For more information, click here.