CSSA launched the first NFT group based on the mascot of a football club (the wild boar of the Ardennes) in order to share an innovative experience with a community of cryptocurrency supporters.
NFT set for a historical club
Founded in 1919, Club Sportif Sedan Ardennes (CSSA) is a veritable institution with significant sympathy capital in the public eye.
One of the oldest French football clubs has achieved an exceptional record. Having been French champions in the D2 (1955) and D3 (1991), and won the French Cup twice (1956 and 1961), the club has a rich and fascinating history. Between 1954 and 1975, CSSA gave fifteen international players and two coaches to the French team. As well as international players for several African teams.
"Les Sangliers" welcomed many future talents (Luc Sonor, Mustapha Dahleb …) and great players such as René Charrier, Ulrich Ramé, Olivier Quint, Maxime Fulgenzy (the record holder for the number of league matches) or the top scorer Claude Briny (149 goals) .
So it is a legendary team that takes the lead and embarks on a set of NFTs in order to create more bonds between fans and the team. The project aims to be fully participatory with a real long-term vision for football and crypto enthusiasts. The main goal of this group is to form a community of active fans who will be able to participate in all future developments, and give their opinion on strategic options.
NFT group configuration
The NFT CSSA Boars collection includes 11,011 characters who represent the club's mascot.
A direct indication of how many players are on the field, football teams actually compete in 11 vs 11. CSSA Boars decided to do a lot with hand-drawing over 230 attributes, making the group particularly diverse and unique.
The attributes are clearly references to soccer in soccer jerseys, for example, but they also refer to accessories such as cannonballs (which represent attackers' shots into the field) or impassable walls to indicate goalkeepers. Look for our analysis of football as a catalyst for cryptocurrency adoption.
Another peculiarity, the group is divided into 5 categories representing different actors of the football team. We find: Defenders, midfielders, goalkeepers and attackers, all at 2500 NFT. The last category is the employee category, with 1011 NFT and a price Mint The highest is at 0.25 ETH. The others range in price from 0.05 to 0.20 ETH, without gas fees.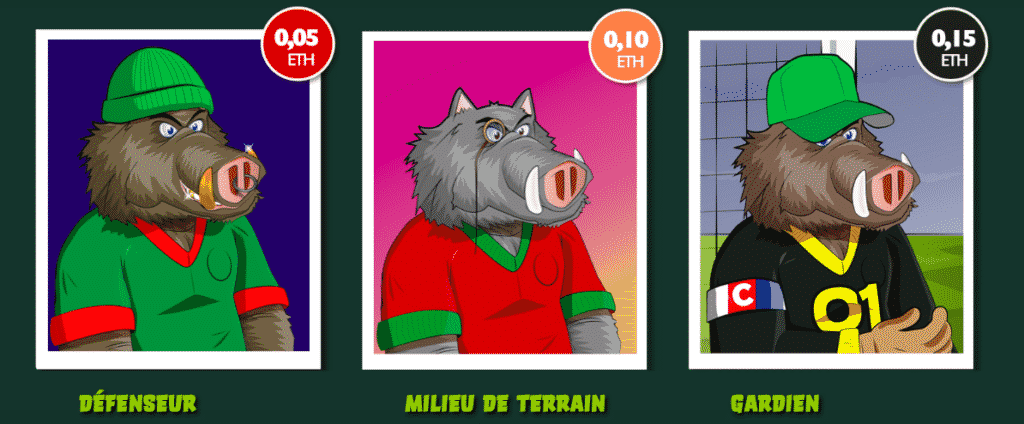 The whitelist from CSSA
For readers who like to finish articles, best for the end!
In fact, CSSA Boars is launching a special sale on May 25, which will allow you to purchase NFTs at discounted prices. In addition, registered on whitelist will participate in the lottery Air dropwith 11 members receiving NFT for free.
CSSA Boars Defender: 0.03 ETH instead of 0.05 ETH
CSSA Boars Midfielder: 0.07 ETH instead of 0.10 ETH
CSSA Boars Guardian: 0.10 ETH instead of 0.15 ETH
CSSA Hog Attacker: 0.15 ETH instead of 0.20 ETH
CSSA Boars: 0.20 ETH instead of 0.25 ETH
However, this private sale only has 2,202 places, then you will have to wait for the public sale, 24 hours later, when a discount of 0.025 ETH will be applied to the 3 NFTs purchased for large buyers.
The NFTs will be revealed on May 28 during the "disclosure" phase after business randomization. Cryptos will then be able to discover their NFT hog's rarity level and start enjoying all the benefits offered in the roadmap.
Thus CSSA Boars aligns itself with the French NFT pioneers. Sports and cryptocurrency have been together for a long time and thanks to these local initiatives, the adoption of this new technology has taken another leap forward.
Get a summary of the news in the cryptocurrency world by subscribing to our new daily and weekly newsletter so you don't miss any of the Cointribune essentials!
Alexis Patten
Passionate about geopolitics, economics, cryptocurrency, Eurasia and travel! (as far east as possible), cryptocurrency trader for 4 years.