A Customer Data Platform (CDP) is an application that collects customer information, unifies it and allows it to be consulted and used for commercial or marketing purposes.
CDP is packaged software, either on-premise or cloud-based (SaaS), which is most often based on a data lake or NoSQL database, customer data is a combination of structured and unstructured data.
What is a Customer Data Platform (CDP)?
A CDP can be defined as a system that can gather data from multiple sources, identify when data pertains to the same customer, perform predictive analytics, and use the results to make decisions to launch marketing campaigns, drive engagement, or improve customer experience (CX).
A CDP unifies customer information so that it is accessible to marketing, sales, customer service (and finance if needed) teams. Combine internal and external sources and create a unique profile for each customer.
The data imported into the underlying CDP database can come from files (CSV, etc.) or from real-time access to other applications (via APIs, microservices or integration tools).
A unique identifier is used to link together all of the same customer's information from different sources.
Once the data has been collected and "reconciled", it can be accessed and manipulated in the tool.
The example of a guitar, concrete customer data and a CDP
Let's take the example of an Internet user visiting a guitar brand's website. A cookie allows the brand to record your visit. But the visitor remains anonymous.
Then navigate to the different pages of the site (those for high-end acoustic guitars and those for mid-range electric guitars). Then leave the site.
This behavioral information – "events" – is also recorded by the site. All of these first party data they are imported into a CDP and stored with an ID.
Some time later, the same Internet user returns to the site (which recognizes it thanks to the first-party cookie). This time he leaves his internet address (zero party data) to receive a newsletter. The CDP will add this email to the customer's profile (always anonymous).
The prospect receives several emails. It opens some of them (on acoustic guitars), but not others (on amplifiers for example). In those that he opens, he clicks on certain information (promotional offers). This sending information (opening, click, etc.) is recorded in the CDP which gradually enriches the customer's "file".
Ditto if you download blank sheets (sheet music, scales, etc.), which allows you to refine your segmentation again (Do you download content related to blues, pop, rock, children's songs, etc.?).
Even if the real identity of the prospect is not known, the guitar seller can already, with the CDP, refine his mailings with the type of instruments consulted (guitar, acoustic, left-handed, etc.) and the content of the e-mails arouse interest.
A CDP will also record whether the site and emails are accessed from a PC, Mac or smartphone.
In our example, the producer can also publish an application version of his site with related utilities (metronome, scores, lessons, etc.) that he offers in a mailing. If the prospect downloads it, and if he consults the offers on the app, the CDP will also register it.
Finally, to unlock advanced features of the application (for example a tuner or a chord dictionary), the potential customer creates an account with his name, first name, age, address, etc.
Those zero party data they add up to the others present in the CDP and the real identity of the customer retroactively "replaces" the anonymous identifier on past "events" (there is an "identity fusion").
A CDP also records in-store data (loyalty card), items in a cart (in progress or abandoned), recent purchases (for example, not to resell them), feedback (customer voice) and contact an after-sales service.
This example shows the diversity of business applications that will power the CDP (CMS, CRM, email cannon, PoS, etc). Its data schema is specially designed to process this information.
CDP: What is the difference between a Unified Customer Repository and a DMP?
A CDP differs from a Unified Client Repository (UCR) which, for its part, has the purpose of recording all customer data and historicizing it; where a CDP will be called upon to act as much as possible in real time – and to do so to reconcile a customer's "fresh" data.
The two are, however, very complementary.
A DMP (Data Management Platform) also collects customer data, but its goal is to optimize advertising actions. Where a CDP specializes in zero and first party data, a DMP handles second and third party data.
"The DMP collects, centralizes and reconciles anonymised or de-identified data […] and allows you to easily segment them for the purpose of activating marketing and media campaigns", summarizes Lionel Lemoine, of Adobe France. "The data managed by the CDP ranges from behavioral data (web and mobile) to profiling data. It also includes product and transactional data […] The CDP facilitates addressing omnichannel scenarios and accelerate CX customization and improvement use cases."
Interest of a CDP
From a business point of view, the user interface (UI) of a CDP allows you to perform various actions without going through SQL or NoSQL queries.
First of all, a CDP allows you to have a complete and/or synthetic view of a specific customer (360 degree view).
Then, it allows you to segment, in a very fine way, on all the parameters of the data model. In this sense, a CDP fits clearly the trend towards ultra-personalizationthat takes targeting from the level of a segment to the almost individual level (from personalization to personification, as summarized by Gartner since 2016).
Direct follow-up, a CDP allows you to orchestrate customer journeys with finer rules (for example "if a customer consulted on the site three models of folk guitars for more than €500, then send them a discount coupon on a cover in case of purchase and the address of the store closest to your home").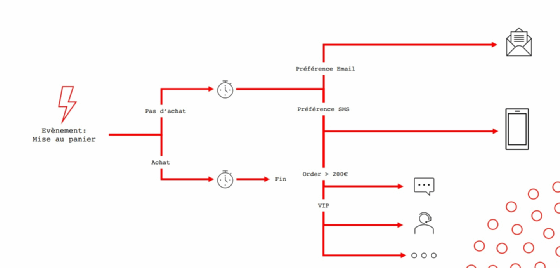 A CDP may also offer out-of-the-box algorithmic models (auto-segmentation, scoring, or to help understand and model the effects of each player's marketing action on a sale [attribution]).
Finally, the CDPs make it possible to label information (sensitive, contractual, confidential data, etc.) to ensure governance, manage access rights and prohibit the use of certain information in specific cases, particular figures (targeting on social networks, for example ).
Business benefits of a CDP
A unified view of data (regardless of the channel it comes from) allows you to better understand a customer's habits and behaviors.
This unified view facilitates CX improvement by laying the groundwork for personalizing all customer interactions with the business: from the "nurture" stage to the act of purchase, including support or retention.
A CDP, based on zero and first-party data, is also an attractive solution with the heralded end of third-party cookies.
The fact remains that despite its assets and promises, the market looks still quite cold towards this new "platform" which is added, in IT marketing tools, to its "cousins" CRM, DMP, RCU, DAM or PIM or PXM extension.