Today, investors can no longer ignore ESG (environmental, social and governance) criteria. In 2023, we will focus more specifically on four topics that can help our clients overcome various challenges.
By Cathrine de Coninck-Lopez, Global Head of ESG
Important points to remember
Against a backdrop of complicated data collection and growing regulatory and non-regulatory interest in investor sustainability preferences, we want to improve the quality of our conversations about all things ESG.
Other key topics include the social aspect of ESG, the importance of climate adaptation and biodiversity, and a better understanding of diverging ESG regulations around the world.
Increasingly, investors need to verify that their investment values ​​are in line with ESG criteria. In this context, media interest and increased awareness of greenwashing will be the main topics from 2023 onwards.
Topics that will be particularly studied by the Invesco Global ESG team in 2023 include:
Helping our clients navigate a complex ESG landscape
Innovation in products and solutions
In 2022, Invesco ushered in several ESG strategies, including "net zero" and "social progress". These solutions are expected to generate more interest from our customers in 2023.
The structuring of the data landscape
Invesco uses over 50 different ESG data sources. We understand the data challenge, which is why we launched the ESGCentral tool in 2022 to help our internal and external clients navigate that complexity. We hope this tool will be a real enabler for publishing portfolio insights in 2023.
ESG vocabulary
Invesco Consulting surveyed 1,500 financial advisors in the US and provided them with tips for starting ESG conversations with retail investors. In MIFID II suitability testing discussions, 20-40% of customers answered "yes" to show their preference for sustainability. The Invesco Consulting study found that nearly 80% of people wanted to learn more about the connection between their values ​​and investment options.
More conversations on (S)social
Social issues accounted for 40% of our conversations with businesses, compared to nearly 60-70% for environmental and governance issuesii. Everything suggests that social issues will be at the forefront in 2023.
Today, news about social problems and how to deal with them varies around the world. Data from the World Benchmarking Allianceiii illustrate it well. In January 2022, one thousand companies were surveyed against 18 social indicators grouped around the themes of decent work, ethical behavior and respect for human rights. The average score was just 5.2 out of 20.
Human rights are another important topic. The EU published its action plan on the matter in August 2022 and the US put a human rights-compliant procurement law to the vote, which was also ratified in the summer of 2022. These developments are increasing pressure on investors, encouraging them to carry out due diligence, which is limited by the availability of data.
In 2022, we expanded data on our proprietary ESG research platform, called ESGintel. It now includes a note on children's rights, which is an indicator of human rights in manufacturing and products and services. This note is generated by the Global Child Forumiv.
The question of compensation and the high number of shareholder resolutions will likely be the themes of the 2023 shareholder voting season. The stock market downturn could lead companies to issue shares to allow their employees to receive a reduction in premiums.
Our investment teams are required to vote in accordance with Invesco's Global Policy Voting Guidelines, while exercising their own judgment on corporate performance.
Climate adaptation and transition plans
Climate adaptation is the ability of people and nature to adapt to the risks associated with climate change. In 2022, financing related to climate adaptation accounted for only about 10% of all green bonds issued. However, this figure is expected to increase significantly in 2023, especially thanks to the use of the products in emerging markets.v.
2023 should see the release of the latest report from the Taskforce on Nature-related Financial disclosures (TNFD), which will lay the groundwork for corporate biodiversity disclosures. Another key element will be indicator number 7 of the European SFDR regulation.
The interaction between climate, biodiversity and food security is also significant. The rise of smart food is accompanied by a debate about biodiversity loss. In 2023, the EU will authorize the genetic modification of some crops to ensure food security in the face of climate changeYOU.
As biodiversity finance becomes increasingly popular, the link between climate offsetting and natural capital is becoming apparent. Nature-based solutions (NbS), in the form of carbon offsetting, could reduce emissions and increase nature-based resilience. The World Economic Forum estimates that NbS could deliver 37% of the CO2 reductions needed by 2030 to limit global warming to 2°C, and at a lower cost than other better known options.
As for companies, we are closely following the task force dedicated to the transition, created during the COP27 in November 2022. The British Transition Plan Taskforce (TPT) is also studying this issue until February 2023. Some companies are already publishing their transition plans; other reports should see the light in 2023. The TPT, mainly dedicated to the transitionviiiwas created in April 2022 and asks companies:
have big ambitions in terms of climate change and resilience;
carry out actions in the short, medium and long term;
establish governance and accountability mechanisms;
implement measures aimed at tackling the risks to the environment and to shareholders.
Definition of ESG criteria
We expect further consolidation of sustainable investment product standards.
In 2022, companies spent a lot of time implementing the European Union's SFDR regulation.
The UK FCA published its guidelines for ESG labels and disclosures in Q4 2022 and will conduct a consultation on them in January 2023. The rules it proposes are different from the SFDR; they are closer to the proposals of the US SEC. These rules should also apply during the first half of 2023.
Similarly, the Canadian regulator sets its own ESG targets. As for Asia, regulators in Hong Kong and Singapore have issued information bulletins on ESG funds in the last two years.
To navigate all these different frameworks, a multinational company needs to have a single internal standard that fits all regions. At Invesco, we have been transparent about how we combine these definitions and plan to spend more time raising awareness on this topic in 2023.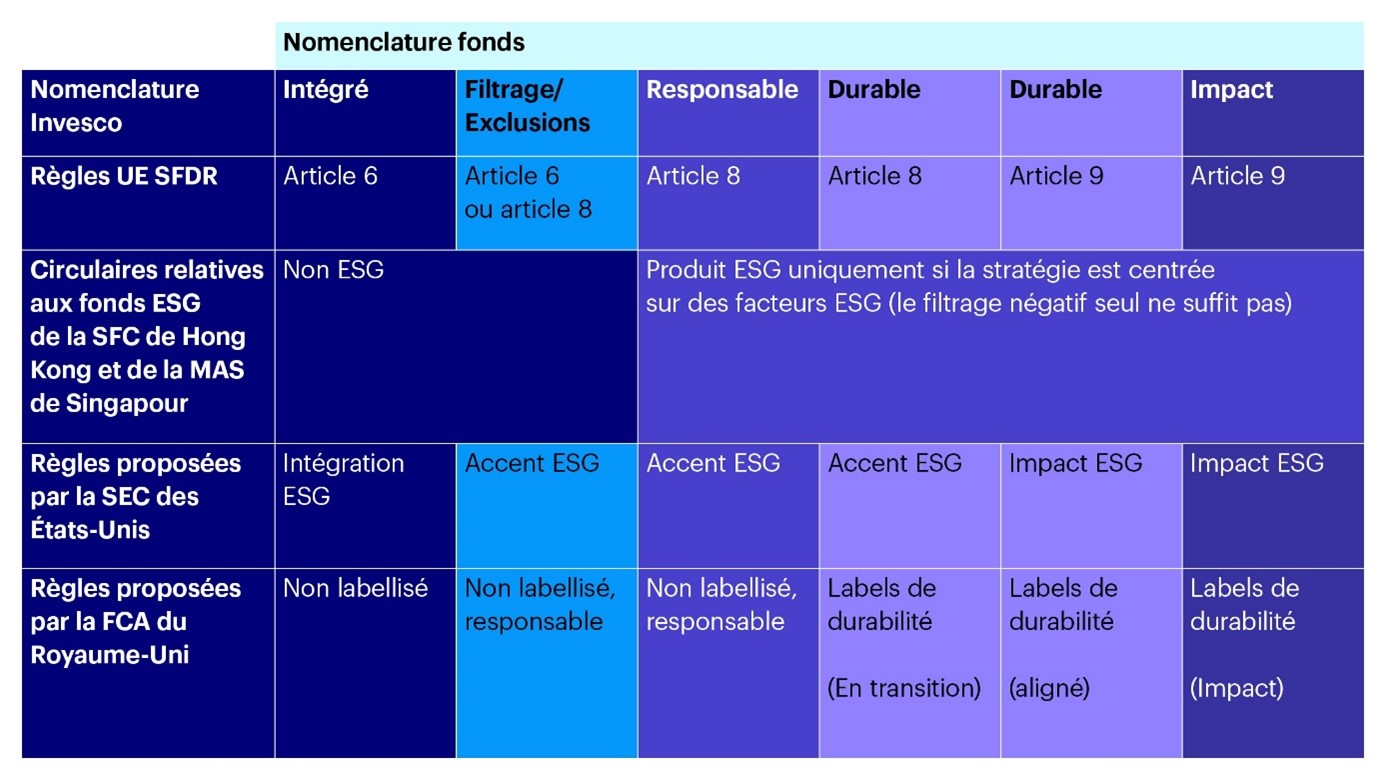 Show the article disclaimer

---
This document is provided for informational purposes only.
The opinions of individuals or companies are based on current market conditions, may differ from those of other investment professionals and are subject to change without notice.
This document is issued in France by Invesco Management SA, President Building, 37A Avenue JF Kennedy, L-1855 Luxembourg, regulated by the Commission de Surveillance du Secteur Financier, Luxembourg and in Switzerland by Invesco Asset Management (Schweiz) AG, Talacker 34, CH-8001 Zurich
---