The renewal of the Leclerc aims to make it a tank integrated into the Scorpion program. This collaborative combat mode connects equipment and soldiers by sharing all the data they collect in a cloud. Explanations.
The Leclerc tank is entering a new era, that of collaborative combat. On Thursday, the Armed Forces Ministry placed an order with Nexter for 50 Leclerc tanks additional refurbished units (XLR) as part of mid-life modernization of 200 units. This market was notified by the Directorate General of Armaments (DGA) on 29 December.
A system that will work tomorrow with the Scaf
The term renewed is a euphemism since the tank will integrate the Scorpion bubble (contact synergy reinforced by versatility and info-evaluation). Implemented by the DGA, this technology was created for collaborative combat. Like the new armored vehicles Jaguar, Serval and Griffon, the Leclerc XLR will therefore be equipped with a combat information system with broadband radio.
This equipment is connected to a "digital bubble" designed by Atos in which infantrymen, artillerymen, armored vehicles, but also helicopters, ground robots and drones communicate with each other at any time via a Cloud sharing the data they obtain.
The Scaf (Air combat system of the future) and Cyber ​​Defense and Intervention (FDI) frigate equipped with digital radar will also be integrated into this network to collect and send information.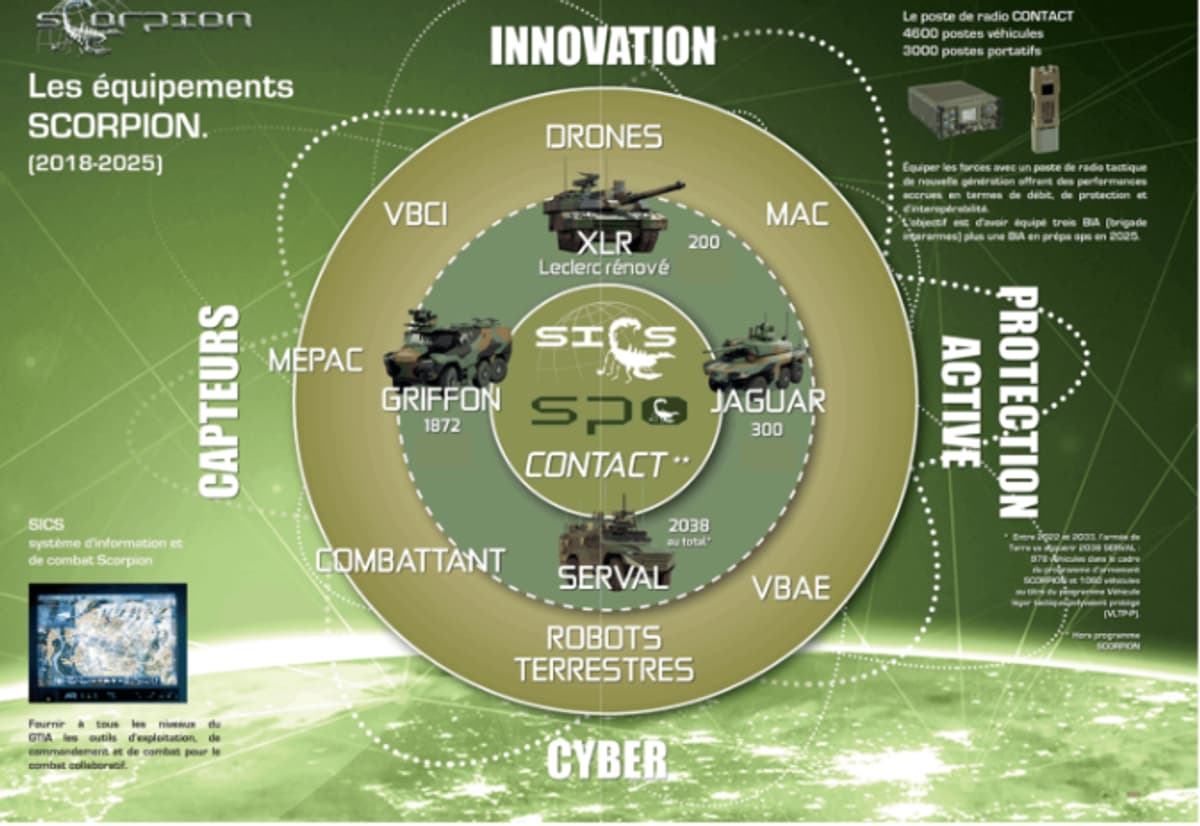 This project to create a connected battlefield to face the wars of the future. This Battlespace Digitization (NEB) germinated among weapons engineers as early as 1999, at a time when mobile telephony and the Internet were far from what they allow today. At that time, the designers were already envisioning a common interconnected battlefield. The idea is to better protect the units to act more effectively by adapting the response based on the attack to better control the force.
Cloud and artificial intelligence
The concept aims to create a mobile and modular intranet to share the information obtained in the field by all the forces involved, each element of which is equipped with sensors. If a threat is detected, information and data will be shared in real time by everyone else to get around or deal with it. The positions of friendly forces are indicated in real time and orders transmitted via this terminal, which both the command post and the platoon leader in his vehicle are equipped with.
And to avoid jams and cuts, an artificial intelligence searches for permanently accessible networks to automatically switch from one node to another. And in the worst case, a degraded mode will secure the links.
Launched in 2014 with a budget of €330 million under the Military Programming Law (LPM) 2019-2025, this program covers 1872 Griffins, 978 Servals, 300 Jaguars, 200 Leclercs and 18 tank repairers. These devices were developed by Nexter, Arquus and Thales. Since 2019, these manufacturers have delivered 452 Griffins and 38 Jaguars to the DGA.