Projects
---
On the occasion of Aveva Day, an event organized last November 8 in Paris by the industrial software publisher Aveva, several French groups shared their experience with the company's solutions, including Michelin and Veolia Water Technologies.
AdvertisingAt Michelin, the digital transformation began in 2017 with, at the same time, a desire to move away from its core business: tires. The Michelin group has 125,000 people, 22 billion euros in turnover, 170 countries and 73 sites. When we talk about Michelin, we talk about tires, but we also do other things, says Denis Laforest, Michelin's digital program manager, in the introduction. The company therefore wants to develop in other areas, both around tires and outside of them. Denis Laforest takes hydrogen as an example, on which Michelin has been working for several years with Faurecia. In 2019 the two companies formalized their partnership in the form of a joint venture, Symbio, focused on hydrogen-based mobility. The goal is to have between 20 and 30% of Michelin's turnover off the tires by 2030, adds Denis Laforest. This is where digital transformation takes on its full meaning, in particular by making it possible to operate in factories in a homogeneous and reliable way, to automate activities, to move towards predictive maintenance, the digital twin, robots and cobots, etc. To support this transformation, the group chose to rely on Aveva's PI System solution, a platform for the collection and use of transaction data.
After the first POCs in 2018, Michelin has committed to structuring the data in its factories in order to build a fully usable database. A non-negligible factor in this transformation, which Denis Laforest wishes to point out: each factory has its own digitalization roadmap. To do this, the Auvergne-based company relied on a very specific model consisting of six factories known as leading digital factories and integrating a team trained on the IP solution. Each of these six precursors then supported another ten sites in the methodology in order to rapidly adopt data-oriented solutions. Today, more than 8,000 users are working on dozens of use cases. In the context of maintenance, for example, 30% of service requests are now automated without manual activities. Operators can also, using PI analysis or an external IT solution (Python, etc.), monitor the cycle time of the machine to detect loss of production capacity more quickly. Another use case for energy efficiency is to install connected meters to display a dashboard and add contextual data to create analytics-based reports and identify levers to reduce energy consumption and losses. Michelin admits that it has clearly gained in performance by integrating the Aveva solutions. The tire specialist then uses these datasets for reporting, visualization and creation of analysis models or use cases. Now work on IoT, big data, forecasting and vision with AI.
AdvertisingVeolia Water Technologies makes a change in the cloud
Another customer present during the day was Veolia Water Technologies (VWT), a subsidiary of the Veolia group specializing in water treatment for industry and laboratories. With 6,900 employees worldwide, € 1.57 billion in revenues in 2021, 130 research facilities and four dedicated research sites, this subsidiary is a data gold mine alone. With over 10,000 customers, including nearly 6,900 industrialists, it has embarked on the path of digital sobriety as it presents it. The project, called Satawad, aims to facilitate information sharing for employees located around the world, with a strong environmental interest in Veolia's IT equipment and its use. In the long term, the company is aiming for an ambitious goal – a 52% reduction in its greenhouse gas emissions – thanks to the following levers: use of Google Workspace applications, use of Chromebooks and decommissioning of the PC infrastructure linked to this transformation.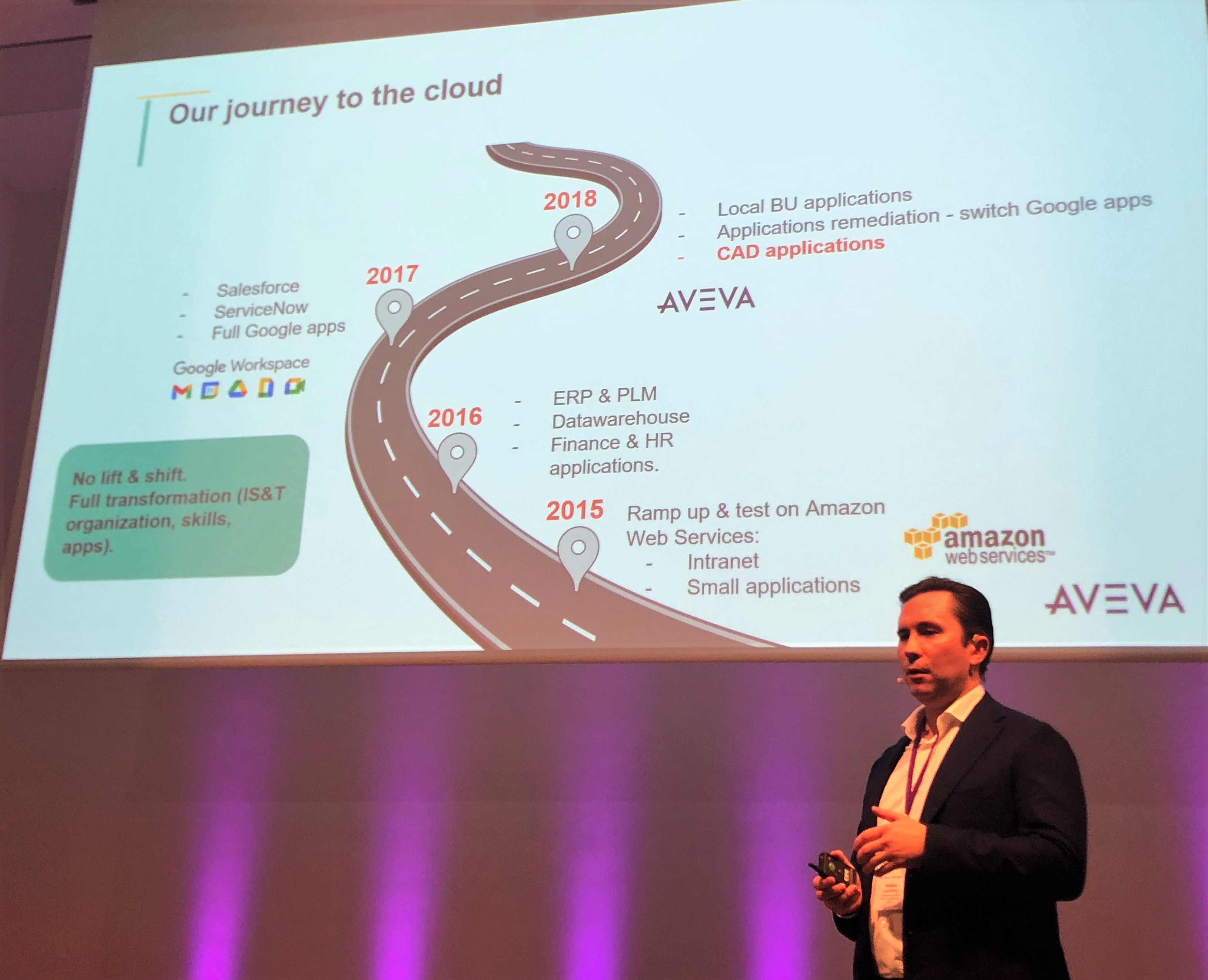 The Veolia branch specializing in water treatment for industry and laboratories initiated a cloud transformation in 2015. (Credit: CS)
Beginning in 2015, VWT turned to AWS for the first time to build an intranet and small applications. In 2017, it adopted solutions from Salesforce, ServiceNow, and the Google Workspace suite. It was a year later, in 2018, that the company really started its sober journey with Aveva, with several challenges: reducing the involvement of the IT department as well as the implementation of software aimed at supporting the various operating units, standardizing more than 260 engineering accounts worldwide in the same environment and ultimately unify disparate data from all engineering tools on a shared platform and common, continuously accessible database. The change, however, took place in a very specific context, since it began on March 16, 2020, when the Covid-19 pandemic was spreading around the world. During this time, 150 engineers have moved to the Aveva cloud. Veolia Water Technologies also admits that it renegotiated its contract in 2022, completely overwhelmed by resources.
Today William Laloyau, Veolia's engineering & BU services manager, believes adopting Aveva's Connect platform has brought its share of benefits. Everything is managed by the Aveva team, which is one of the biggest pluses. It is flexible and scalable according to our needs. This also complies with VWT cybersecurity standards. Finally, the SaaS approach means we pay for what we use and reduce the total cost, he concludes.
Article written by

Clia SeramourJournalist