In the midst of the bear market, the SONM (SNM) cryptocurrency has soared by more than 4,000% in the space of 24 hours.
SONM (SNM) cryptocurrency is trading at $8.12, after surging more than 4,000% between Nov. 21 and Nov. 22, according to data from CoinGecko.
At the same time, the price of SONM has increased by more than 5000% in the last 7 days. On Nov. 14, SNM was trading at $0.15 and on Nov. 21, the cryptocurrency hit an all-time high of $10.91.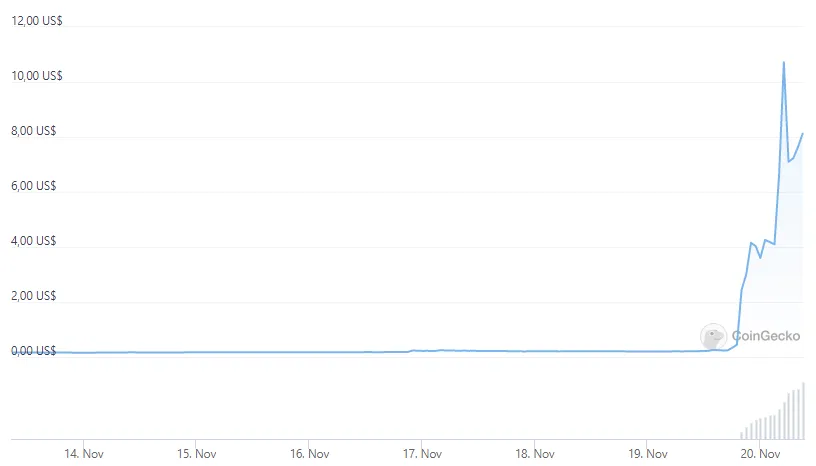 After hitting an all-time high, SONM price has declined slightly and is now trading at $8.07 at the time of writing.
SONM impresses, but what is this project?
Along with the all-time high price of the SNM token, trading volume also saw a significant spike, surpassing the $657 million mark in 24 hours.
SONM ranks 218th in terms of market capitalization. However, after the recent rally, the token has now managed to climb to 88th position in this cryptocurrency ranking.
The SNM ICO was launched in 2017 and its official website has been much less responsive over time. In fact, the web page hasn't been updated for a long time. However, the developer team highlighted that the project is still under development:
"SONM provides hardware-based cloud services distributed at the customer level, including through PCs, mining equipment and servers. You can rent your own hardware or use someone else's computing power for your needs.

Always pay attention
Despite the exorbitant growth of SONM, it is important that investors are not dazzled by the performance of this token.
The exact cause of SNM's price increase is not yet known, so it is still essential to analyze the fundamentals and evaluate the clarity and seriousness of the project.
This will prevent you from falling for a scam, staging or any other action that could lead to a loss of money, as happened a year ago with the infamous SQUID Tokena quintessential scam that sailed on the hit Squid Game series.
Disclaimer
All information on our website is published in good faith and for general information purposes only. Any action you take based on information found on our website is entirely at your own risk.