Often considered as a solution dedicated to large accounts and large companies, CRM is in fact a very useful tool for the development of all companies, regardless of their size. From the outset of a project, view CRM as an asset and an opportunity to save time rather than a cost. Teamleader is a CRM and business management software aimed especially at VSEs/SMEs and startups. Again with them on the benefits of such a tool for small businesses.
CRM: the tool to manage your commercial relationship
A CRM or Custom Relationship Management tool allows, as the name suggests, to manage the relationship with the customer. We usually talk about a CRM strategy, but very often this is based on a CRM tool. There are various software on the market that allow you to manage and optimize the relationship with the customer. Specifically, a CRM will centralize the company's entire commercial relationship on the same tool, group all the information on customers and prospects and summarize all the commercial actions undertaken: contact, email, follow-up, signing of estimates, etc.
A CRM tool therefore makes it possible to eliminate non-centralized and non-collaborative spreadsheets, to group data on prospects and customers in a single tool, accessible to all company salespeople. The CRM is also the central point of the commercial strategy: thanks to it, you visualize the sales pipeline, as well as the forecasts of the sales team.
The advantages of the CRM over the Excel file
The reflex for an SME or startup is often thinking that an Excel file will play the same role as a more expensive CRM tool. This is a wrong view. Integrating customer data into a spreadsheet has significant disadvantages in implementing a coherent strategy:
Contact information is scattered across multiple files and is not centralized or hosted in the cloud.
All contact creation and updates must be done manually.
The risk of losing data is significant.
No KPIs on sales team actions and effectiveness.
Customer data is not accessible to all employees, regardless of their location or device.
The use of CRM software such as Teamleader, on the contrary, will allow to overcome the shortcomings of a simple spreadsheet:
Quick and accurate management of all your business contacts. Teams save time with a CRM instead of compiling Excel files.
Real-time access to all the history of exchanges with your customers and prospects.
Detailed knowledge of your prospects and customers: contact details of the company, number of employees, sector, events, news, etc.
Automation of many time-consuming tasks.
Anywhere access, by all relevant teams.
A clear view of the sales team's actions and progress.
Time saving and productivity
One of the main benefits of CRM tools is saving time by automating time consuming tasks with low added value. Sales teams spend too much time on these administrative tasks. Thanks to a CRM, teams are more productive and can therefore concentrate on their mission: sales.
Here's how a CRM like Teamleader will save you time:
Automatic sending of emails
Creating email templates
Estimate creation in just a few clicks
Automatic modification of the invoice
Automation of commercial reminders
Scheduling and assigning tasks and reminders
Automatic creation of reports
Throughout your customer relationship, a CRM will therefore be a valuable time saver. By dedicating less time to ancillary activities, you have more time for actions with high added value.
CRM: an essential tool for startups and SMEs
The adoption of a CRM solution is often perceived as a complex and expensive process, and therefore reserved for large groups. However, it is now very easy to equip yourself, at reasonable prices, with many players on the market. Startups are by nature faced with complex challenges to manage:
Growing up with limited financial resources and a small team,
Quickly accelerate business development under penalty of going out of business,
Structure the business to increase productivity,
Grow with limited marketing budgets,
Acquire new customers and retain them quickly
Have rigorous financial management and an accurate view of business performance.
Unlike already mature companies, a startup or SME cannot afford mistakes. If growth is not ensured, the risk to the sustainability of the business is immediate. The integration of a CRM allows you to respond to these different challenges. The tool allows you to plan your actions and have a clear vision of your business strategy. In a period of rapid development, with strong economic interests, having a CRM is essential for several reasons:
Better productivity of your commercial resources,
Save time by eliminating certain tasks,
Real-time display of opportunities, sales and more generally the growth of your business,
Perfect knowledge of your customers and your prospects and more effective commercial strategy,
Structuring of business processes to better manage leads and prospects,
Providing an identical, centralized tool for all teams.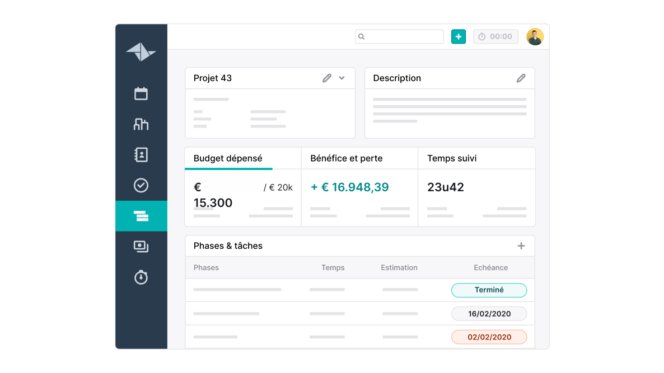 By structuring your actions, you have more efficient sales teams, and therefore a startup that develops more, and faster. Another advantage of a CRM for a startup or an SME: the tool allows you to better align strategies dirty and marketing. You are therefore more effective in acquiring new customers, on all levers.
Teamleader: an effective solution for small businesses and startups
The biggest barrier to implementing a CRM is generally cost. Teamleader wants to be very convenient. The Teamleader Focus solution for companies from 1 to 20 employees is available from €15 per user per month. The $20 and $30 per user per month plans include more features (time tracking, project management, financial forecasting, priority support, etc.). And to get an idea of ​​the value of the solution and its quality, there is a 14-day free trial without a credit card. Teamleader Orbit for companies from 20 to 1,000 employees is available from €50 per month and per user.
Another important topic: manipulation. Teamleader is not a "gas factory". The solution is very easy to set up and learn, with many video modules, tutorials or articles that allow you to learn how to use the platform. The solution focuses on the essentials and does it well. All the needs of a growing business are covered: managing your prospects, scheduling meetings, managing quotes and invoicing, paying invoices, reminders, time tracking, project management, etc.
In use, the solution is really easy to handle and well designed. A great tool to implement to launch a CRM strategy and centralize customer data.