Today, tourism professionals need to embrace the theme of sustainable travel to answer their customers' questions and implement solutions to contribute to the decarbonisation of the sector.
Convinced that the time has come for companies and their travelers to take the turn of the green transition, Treep is investing in promoting another vision of essential, simple and low-carbon travel. Try if there is any, that solutions exist to help the industry reduce greenhouse gas emissions from business travel.
What are we talking about? What is the share of true and false? What are the figures and orders of magnitude? What are the challenges, solutions and prospects? And above all, how to be well informed on the subject? such is the ambition of a series of articles that we publish exclusively for Quotidien du Tourisme and Tour Hebdo in collaboration with Treep's Nabila Iken.
Through this series of articles entitled "Rethinking Responsible Business Travel", Treep presents his thoughts on the issues and tools that can enable companies to integrate carbon footprint into their business travel practices. In particular, they address the causes and consequences of global warming, the contribution of the business travel sector to global warming, issues related to the measurement of business travel greenhouse gas emissions, the various levers to reduce these emissions in different stages of travel, environmental drives, but also their vision of essential business travel.
Growth incompatible with planetary boundaries
In 2022six of the nine planetary boundaries designated by scientists are obsolete. In other words, we have already reached the tipping point in terms of biosphere degradation, chemical pollution and global warming.
Furthermore, the impact of human activity has reached such a level that it is able to interrupt the main cycles of the earth, such as the water cycle and the nitrogen cycle. These changes have happened in record time, like the lightning explosion of the industrial revolution.
Planetary boundaries in 2022. Source: Stockholm Resilience Center
At the origin of these overruns, an extractivist economy and a race for infinite growth that does not take into account the finiteness of resources: every person on earth today consumes an average of 33 kilograms of raw materials per day(1) These materials are used to produce goods and services that raise our standard of living. According to the OECD, their consumption is expected to double by 2060.
Furthermore, today we consume four times more energy than in the pre-industrial era. This energy is used to build and heat our homes, to produce and store our food, to transport us and to entertain us. It consists mainly of fossil fuels, i.e. energies deriving from the fossilization of living organisms over an infinitely long time (several million years). In 2019oil, coal and gas account for 84% of global energy consumption. Coal remains the largest source of electricity generation in the world.
(1) https://www.oecd.org/environment/global-material-resources-outlook-to-2060-9789264307452-en.htm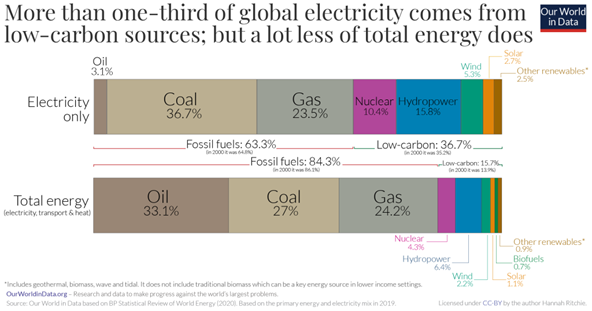 To harness the energy they contain, oil, gas and coal are burned to produce heat which will then be converted into motion, electricity, etc.. But this is accompanied by the production of a molecule with known consequences: carbon dioxide (CO2). Together with methane (CH4) which comes mainly from livestock activities and nitrous oxide (N2O) which comes mainly from agricultural activities, CO2 is one of the most widespread greenhouse gases (GHG) in the atmosphere. These help prevent energy from the sun from leaking into space, which raises the earth's average temperature..
Today, our consumption of fossil fuels causes three-quarters of global greenhouse gas emissions. The rest is due to agriculture, deforestation, landfills, but also to certain industrial activities.
Transport alone accounts for almost 16% of emissions of GHG on a global scale. In France, this figure reaches 30% : Transport is by far the main source of CO2 emissions in the country (followed by agriculture and industry).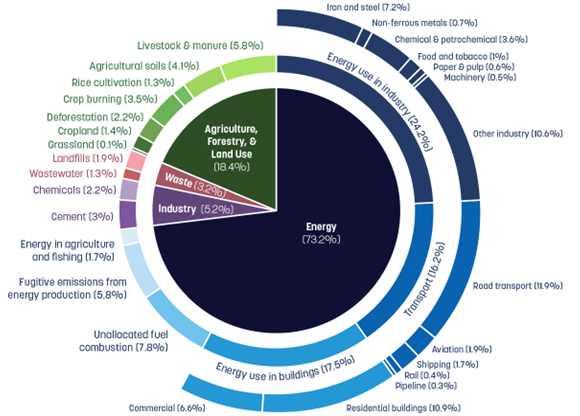 Traveling across planetary boundaries?
In France, 76% of employees consider their business travel necessary to carry out their missions[2]. In fact, in addition to being a precious symbol of social distinction, a business trip is an opportunity for companies: an opportunity to meet and create new social ties, a learning and training opportunity, or simply an opportunity of business.
However, while travel is traditionally evaluated by companies through a financial prism, it also comes with an environmental cost, specifically a carbon cost. This is mainly for the transport of people, but also for their accommodation, their catering, professional eventsetc.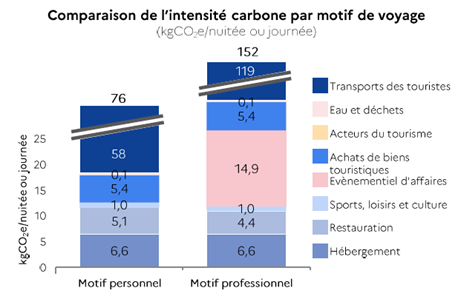 The topic of climate problems related to travel in general and business travel in particular is not new. According to GBTA, this is the issue that was deemed most important, by both business travel industry players and stakeholders.[3].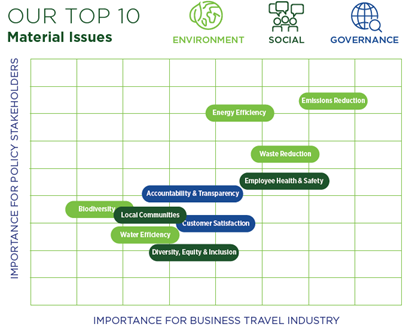 However, the measures taken by industry players (companies, business travel agencies, data providers, etc.) remain timid and the debate is often limited to the issue of modal shift from plane to train, as well as carbon offsetting .
Some companies integrate these issues through corporate travel policies that favor the train for less than a certain journey time, but initiatives aimed at rethinking business travel are rare.
The first article in this series discusses the causes and consequences of global warming. It will be a return to the origins to understand the link between human activity (in particular business travel) and the increase in greenhouse gas emissions.
About Treep
The Treep is a publisher of eco-responsible business travel booking software. It is an automated booking tool to compare, combine and book trains, flights, cars and hotels worldwide.
Its mission: to accelerate and contribute to the decarbonisation and sobriety of the business travel sector.